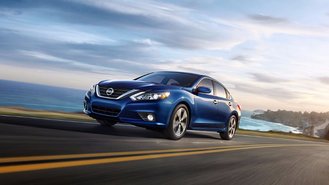 Coming off of Nissan's announcement last week it would make automatic emergency braking standard on many 2018 vehicles, most automakers are moving slowly to put the technology on all vehicles ahead of a looming mandate.
While a handful of companies have introduced automatic emergency braking as standard equipment, most others have been slow in making the system standard, according to Reuters via Autoblog. And this comes after 20 automakers told the National Highway Traffic Safety Administration that the technology, which applies braking in the event of an impending frontal collision, would be standard equipment on all cars by 2022.
Nissan joins Toyota and Volvo in making it standard on most, or all, new models. Other companies such as Honda are expanding availability of the system. But in most cases, automatic emergency braking is lumped into expensive option packages that can add several thousands of dollars to the price – if you can even find a vehicle at a dealership equipped with the package.
As reported by Reuters, domestic brands are lagging the most in terms of making the technology standard. Of the 17 percent of new cars that have automatic emergency braking as standard equipment for 2017, most are European and Japanese luxury models.
NHTSA supported a mandate to put automatic emergency braking on all new cars because it believes it will cut the number of crashes every year by one-fifth, reducing injuries and deaths.