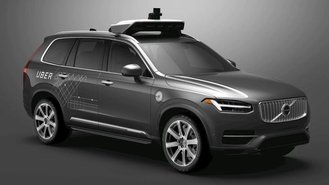 Earlier this March, one of Uber's autonomous Volvo XC90 SUVs operating in Tempe, Arizona was involved in a fatal accident with a pedestrian. According to The Information (via The Truth About Cars), the incident has been traced back to an issue with the vehicle's software. Two unnamed sources stated that the XC90's sensors detected the pedestrian, but Uber's software ignored the warning signs.

The report claims that Uber's software, like many other systems found in other self-driving cars, is tuned to ignore "false positives." This is done to make sure the car doesn't come to a halt every time a piece of debris enters into its path. The tuning, though, as one of the unnamed sources claims, went too far and hindered the vehicle from taking evasive action in time.

While Uber is staying relatively quiet on the accident, the company did announce that it had hired former National Transportation Safety Board Chair Christopher Hart to advise the company going forward.

"We have initiated a top-to-bottom safety review of our self-driving vehicles program, and we have brought our former NTSB Chair Christopher Hart to advise us on our overall safety culture," said Uber. "Our review is looking at everything from the safety of our system to our training processes for vehicle operators, and we hope to have more to say soon."

After the incident, Arizona's governor shut down the company's autonomous program on public roads in the state. Uber also brought its program in California and Toronto to a halt.