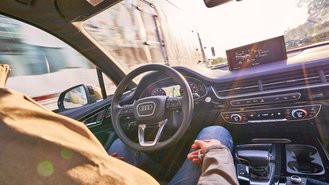 The general opinion with new, advanced safety features is that they make cars safer than ever. Autonomous vehicles are supposed to be the pinnacle of safety because they take the weak link – the human error – out of the equation. In theory, autonomous cars are supposed to make automotive-related accidents a thing of the past. Unfortunately, a new study from the Insurance Institute for Highway Safety (IIHS) paints a different picture, one where self-driving cars only prevent one-third of all crashes.
With a host of cameras, sensors, and computers, autonomous vehicles, at least in theory, are supposed to be able to identify hazards before humans and react to them more efficiently than humans, too. While that may be true, the IIHS doesn't believe that will be enough to prevent a large number of automobile crashes. The reasoning behind bursting the bubble surrounding autonomous vehicles has to do with what currently causes crashes.
The IIHS, citing a national survey of police-reported crashes, claims that driver error is the "final failure" in a series of events that led to more than nine out of 10 automobile accidents. Analysis conducted by the IIHS states that approximately one-third of those accidents were caused by mistakes that an autonomous vehicle wouldn't make. Driver distraction, failing to recognize hazards, and impeded visibility accounted for roughly 24% of more than 5,000 police-reported crashes IIHS researchers examined. Medical problems, falling asleep at the wheel, and impairment due to alcohol or drug use accounted for 10% of those accidents. Both of those areas are where driverless cars would be able to make a difference. For the other two-thirds of accidents, the institute believes that they will have to put safety ahead of convenience or speed.
"Building self-driving cars that drive as well as people do is a big challenge in itself," said IIHS Research Scientist and lead author of the study, Alexandra Mueller. "But they'd actually need to be better than that to deliver on the promises we've all heard."
This might be a tough sell for consumers. While autonomous vehicles aren't on sale yet, semi-autonomous technology is starting to trickle onto the market and it's incredibly expensive. Tesla charges $7,000 for its Full Self-Driving Capability feature and Cadillac will reportedly charge $2,500 ($6,150 if you take the other required packages into account) for its Super Cruise system on the 2021 Cadillac Escalade. With more hardware and software, it's safe to assume that fully-self-driving cars will be even pricier. It's possible that the majority of shoppers might not be interested in the technology because it will be expensive and because it may not be any more helpful than tech that's currently found on vehicles.
The majority of autonomous vehicles that automakers have unveiled have been stunning, futuristic concepts with all sorts of crazy features. Forget about steering wheels, you'll be able to sleep in the car, get some extra work done in traffic, or watch a movie. At least, that's the dream that they're pushing. In order to eliminate automobile crashes, these things will have to take a backseat, as engineers will have to focus on programming driverless cars to be able to drive safely before worrying about rider preference. If autonomous vehicles don't prioritize safety, they won't live up to their promise of being safer than humans, claims the outlet, which was the rationale behind introducing the technology in the first place.