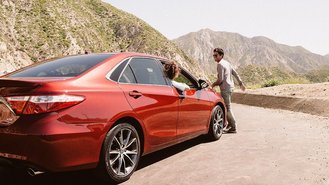 A whopping 30-percent of new auto loans now exceed 72 months. That's over six years, folks. The trend is part of a push to spread out car payments over a longer period of time as consumers grapple with rising food prices and an overall higher cost of living. That, and they're deciding to buy more expensive vehicles. But does it make sense to opt for a long-term auto loan?
One-Step Auto Loan Application »
Long Term Loans
Look, long terms might sound great on the sales floor. You get to pay off your new car over a longer period of time while lowering your monthly payment so that you can allocate your hard-earned money towards other things, whether it be eating out more often or taking a short weekend vacation up the coast. But they can also be detrimental to your long term goals of saving money.
That shiny, new 2015 Toyota Camry SE slathered in Blue Crush Metallic paint has a pricetag of $24k, but if you're stuck with a 5.9% APR for six years, that same Camry will cost you a closer to $28k.
But long-term loans can also work against a consumer, especially if the APRs on a given vehicle are high. The same thing goes for someone initially shopping for a $17k Toyota Corolla who ends up buying a Camry or something even more robust like a $30k Toyota Highlander.
It's extremely important to keep your wits and really understand what you can and can't realistically afford. The urge to splurge on something totally out of your budget is tough--but think it through, as purchasing a new vehicle is probably the second largest purchase you'll ever make in your lifetime.
Those Low APRs
Don't get us wrong--if you qualify for a lower APR of 0.9 or even 0-percent--it might make more sense for you to stretch out your payments over a longer term. But for all the consumers who don't qualify for the rock-bottom APRs tantalizingly advertised on commercials during the NBA Finals, it makes more sense to pay down that auto loan over a shorter 48 month term to reduce the amount of money allocated to interest.
With that being said, low APR financing will slowly begin to fade as soon as next year, so if you do qualify for a low 0 or 0.9% APR, our advice is to buy now versus waiting.
Time Running Out for 0% Financing »
Loan Amounts, Payments Increasing
For the first quarter of 2015, the average American consumer took out a loan in the amount of $28,711, which represents an increase of $1,099 over the same period in 2014 ($27,612). In addition, the average monthly payment has also risen from $474 to $488. That might not seem like much, but the trend implicates consumers because as mentioned earlier, they're also taking longer to pay off their vehicles.
In other words, they're buying a more expensive vehicle when they really probably don't have a need to do so. You don't want to be one of those guys. Our advice is simple: buy a car that you can afford.
Our Recommendations
There are a host of new 2015 cars, trucks and crossover to choose from today. The key is to really put some thought into the type of vehicle you truly need. If you really want a crossover or SUV, take a hard look at hatchbacks. They are an office favorite here, as they provide loads of cargo capacity and are amongst the most affordable vehicles on the market. They are also extremely safe.
Here are some recommendations:
Compact Sedans
2015 Nissan Versa
2015 Chevrolet Sonic
2015 Kia Rio
Hatchbacks
2015 Honda Fit
2015 Ford Focus
2015 Nissan Versa Note
Midsize Sedans
2015 Nissan Altima
2015 Ford Fusion
2015 Toyota Camry
Crossovers
2015 Honda CR-V
2016 Mazda CX-5
2016 Kia Sorento
2015 Nissan Rogue
2015 Chevrolet Trax
Coupes
2015 Ford Mustang
2015 Chevrolet Camaro
2015 Scion tC
2015 Kia Forte Koup