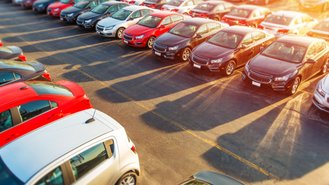 It seems that car buyers aren't scared to put down large payments on new vehicles, and the same thing is happening in the used market. While unemployment numbers are still high, the automotive industry has seen an increase in the average down payment for both new and used cars.
The experts at Edmunds report that the average down payment in the third quarter of 2020 for a new vehicle was $4,457, which is a big increase compared to last quarter's $3,891. The overall transaction price has also risen from $38,893 to $39,303. It's clear that borrowers purchasing new cars aren't nervous about dropping thousands of dollars up front, even in the middle of a pandemic.
Jessica Caldwell, Edmunds' executive director of insights, reports, "The discouraging unemployment numbers we're seeing across the country likely aren't reflective of the Americans in the new car market."
Used vehicle down payments are rising, too. In the second quarter, the average down payment for a used car was $2,937 – it's sitting at $3,306 in the third quarter.
The cause for rising down payments in the used market could be a reaction to the lack of new-vehicle supply, shifting car buyers who would normally buy new to used. Or, some buyers may be looking to spend a little less cash on a vehicle considering the current state of the economy and uncertainty surrounding many people's financial and job security.
Despite the fact that transaction prices and down payments have increased recently, the average loan term and monthly payment have decreased in the third quarter. The answer could lie in the incentives being offered by automakers, and buyers feeling comfortable enough in their financial situation to put more money down on top of rebates.
This October, Ford is introducing the 2021 F-150 with a $3,000 rebate, and the RAM 1500 recently had offers that could lead to as much as $10,000 off MSRP for eligible borrowers. All Cadillac Escalades are eligible for a $9,500 rebate, too. These deals can be hard to pass over. Not to mention, many automakers are offering 0% interest for X-number of months for qualified buyers.
Car buyers appear to be taking advantage of rebates and are still adding their own large down payments. Interest rates are also low, and not expected to rise anytime soon. This is great news for borrowers, since these combine to make for fantastic loan terms – increasing their chances of successfully completing the loan and combating the risks of negative equity.