Shoppers hoping to snatch up the Jeep Gladiator will likely find prices at their local dealer a little easier to swallow. According to findings published yesterday by Cox Automotive, last month's average transaction price for Jeep's new pickup was $50,862. That's down from $56,403 back in May.
So does that mean Gladiators are cheap now? Not necessarily. Unlike nearly every other truck, the Gladiator continues to have no rebates or financing incentives to speak of. While high residual values can make it a smart model to lease, Jeep has resorted to tactics like taking ultra-cheap leases off its website.
Apart from better pricing at dealers, a contributing factor could be the increased availability of more affordable styles because dealers tend to stock higher trims first when a new vehicle hits the lot. However, while the Gladiator has a base price of $33,545 on paper, the prices shoppers see will likely be over $40,000.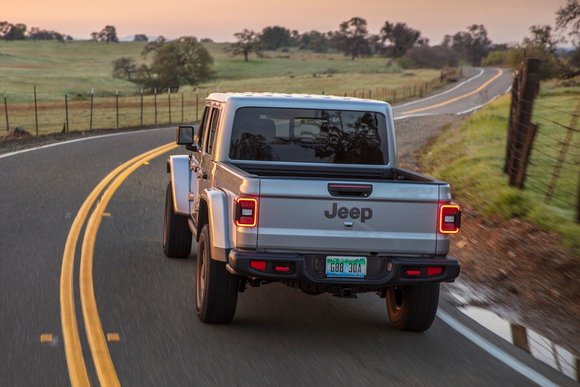 First, the $33,545 doesn't include the destination charge ($1,495) or the cost of an automatic transmission ($2,000). At that point, the actual MSRP is $37,040. Even then, many dealers are stocking versions with Package 24S, a $3,200 option that turns a Sport into a Sport S.
Package 24S adds things like 17-inch aluminum wheels, automatic headlights, a leather-wrapped steering wheel, power tailgate lock, keyless entry, an alarm system, and more. As a result, most Gladiators that we're seeing advertised have a sticker price over $40,000.
Last month, a national search on shopping site Autotrader showed just 1 Gladiator listed under $37,000. Now, we're seeing 14. Locally, the cheapest truck at a dealer in Huntington Beach has an MSRP of $39,435— a Sport S with manual followed by a nearly $49,000 Overland.