In the last few years, consumers have flocked to crossovers, trucks, and SUVs. The need for larger vehicles revived the mid-size truck segment forcing Jeep and others to release their own offering. Jeep fans demanded a pickup truck with such ferocity FCA included an FBI crisis negotiator during the Gladiator's design process just to keep all parties placated. While Jeep hasn't had a truck in its portfolio since the residents of Palm Springs, Calif. elected Sonny Bono as mayor, aftermarket companies have filled the void by converting Wrangler SUVs into Wrangler trucks. However, while Jeep Gladiator sales aren't high by volume, the average price paid certainly makes up for it.
According to Cox Automotive, sourcing data from Kelley Blue Book—they're under the same corporate umbrella—Jeep sold 2,548 Gladiators in May. That's a drop in the bucket compared to others in the segment; however, customers are paying, on average, $56,403 per Gladiator. That's not cheap when you consider the Gladiator has a starting price of $33,545, excluding the designation charge.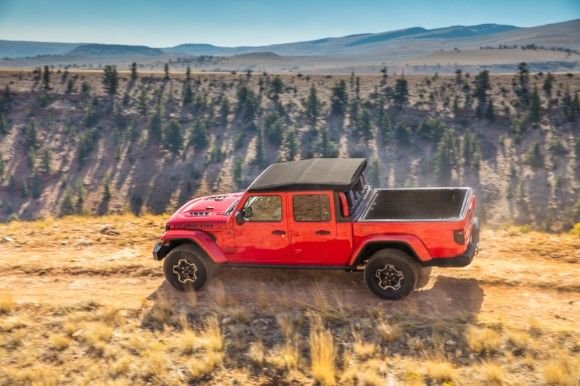 Compare that to the Ford Ranger, which Ford recently reintroduced to the market after an eight-year hiatus. The Dearborn-based automaker is selling more than the Gladiator— 7,750 last month, but the average transaction price is much lower at just over $37,000. However, it has a nearly $10,000 lower starting price than the Gladiator at $24,300.
The difference lies in the customer. Jeep has built its brand on its rough-and-tough off-road legacy, building vehicles customers can not only live with but also enjoy off-road. While the entry-level Gladiator is a $33,545 investment, customers have to pay a premium for the best off-road parts and features. It's not hard to price a Gladiator above $60,000. That's premium full-size pickup pricing.
There's also a difference in purpose. While both the Gladiator and Ranger are mid-size trucks, there's no doubt the Jeep is far more capable off-road than the Ranger. Gladiator customers don't have to take the truck to an aftermarket specialist for off-road ready parts—it rolls off the line ready if customers want to pay a premium, and it looks like they are.