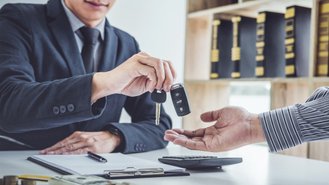 While car prices are higher than they ever have been, consumers caught a little bit of a break last month when automotive loan rates dropped to their lowest levels of 2019, reports Edmunds. According to the outlet's research, the average annual percentage rate (APR) on a new vehicle hovered around 6.10% compared to April's figure of 6.27%. It's not a massive decrease, but every little bit helps.
Consumers shopping for a vehicle on Memorial Day weekend were lucky to catch a few 0% APR deals. We even saw some 0% deals on some of the most popular pickup trucks on the market, which is a rarity. Ram, Ford, Chevrolet, GMC, and Toyota had 0% APR deals during the federal holiday.
Despite the fact that new car APR rates in May decreased from April, they're still much higher than last year's figures. Edmunds' data reveals that new car shoppers in May 2018 were looking at APR rates of 5.67%. Back in May 2014, the average APR rate for a new car loan was 4.37%. An APR rate of 6.10% may not look that attractive in the grand scheme of things, but it's the best rate we've seen this year.
When it comes to used cars, the average APR rate was 8.67% in May. That's an increase of 0.45% from last year when the rate averaged 8.22%. The increase for used car rates isn't as drastic as it is for new cars, as shoppers in May 2014 saw APR rates average around 7.49%.
Edmunds' analysts claim that now is a good time as any for shoppers to purchase a new or used vehicle, as bargains won't be as plentiful now that dealers have moved a decent number of cars. With demand starting to trend downward, automakers will adjust their production numbers to meet less demand, which will result in fewer deals. President Trump's proposed tariffs on Mexico also loom grimly in the background, which could wreak havoc on new and used car prices, as well as APR rates.