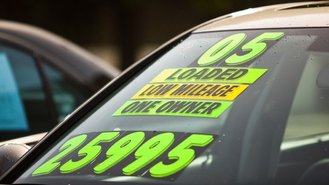 Consumers looking to get away from high new car prices by purchasing a used vehicle may find a surprise, as used car prices are continuing to rise. According to Edmunds, used car prices hit an all-time high in Q3 2019, as the average transaction price of a used car was $20,683. Compared to last year, the average transaction price of a used vehicle rose by $600.
There are a few factors that have caused used car prices to rise. One of them is that the majority of used car purchases – roughly 68% of them – are from vehicles that are four years old or newer. Rising used car prices have also increased thanks to consumer interest in SUVs, crossovers, and pickup trucks. All of those body styles have higher new transaction prices than ever before, and the majority of them cost more than sedans.
Another reason for high used car prices comes back to the large number of SUVs and trucks that are returning to the market off-lease. According to the outlet's reports, 2019 was the first year that SUVs and trucks (combined) outnumbered cars for vehicles returning to the market off-lease. Leases only run for a few years, which could help explain why so many used car transactions involved vehicles that are only a few years old.
Despite the increase in used car prices, in its latest report (pdf), Edmunds still believes that buying used is the way to go. More and more consumers are opting to get fully loaded new cars, increasing the average transaction price of a new vehicle and creating a wide gap to transaction prices for three year-old-vehicles. In Q3 2019, the MSRP of a new vehicle transaction was $37,242. The average transaction of a three-year-old car was $22,291. Unless you're hunting for a new vehicle with all of the latest features, slightly used vehicles, which will have the majority of the same features, are better value propositions.
Pictured: 2015 Kia Sportage