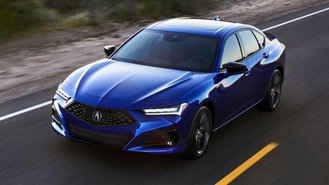 Having recently driven the 2021 Acura TLX, I can tell you that the all-new sedan is a value-packed luxury sedan with sharp handling. As it turns out, the midsize sedan is also really safe. The Insurance Institute for Highway Safety (IIHS) has completed its testing on the 2021 TLX and the sedan earned its highest safety award of being named a Top Safety Pick+ vehicle.
Acura's made quite a lot of changes to the 2021 TLX compared to the previous model year, which significantly boosts its crash-test rating. The 2020 TLX failed to earn an award from the IIHS because of its "Acceptable" rating in the driver-side small overlap front test and "Acceptable" rated headlights. The 2021 model earned a rating of "Good" in all six of the institute's crash tests, comes fitted with "Good" rated headlights as standard, and earned "Superior" ratings in both front crash prevention tests. In other words, the 2021 TLX got the perfect score.
With a Top Safety Pick+ award, the 2021 TLX joins the Lexus ES, Mercedes-Benz C-Class, Tesla Model 3, and Volvo S60 as midsize sedans that have earned the institute's highest award. The Audi A4 and BMW 3-Series are Top Safety Pick vehicles.
Overall, Acura isn't doing that well when it comes to the total number of IIHS award winners it has. Currently, the luxury brand only has two cars to earn one of the IIHS' awards, which include the Acura TLX and the Acura RDX. Both vehicles are Top Safety Pick+ vehicles, though. Mercedes-Benz (three vehicles), Volvo (seven vehicles), Lexus (four vehicles), Audi (eight vehicles), and Genesis (three vehicles) all have more award winners in their lineup. BMW and Cadillac have one IIHS award-winning vehicle each.
The new 2021 Acura TLX comes with a variety of standard features. Pedestrian detection, forward collision warning, lane departure warning, automatic emergency braking, adaptive cruise control, traffic sign recognition, lane keeping assist, and automatic high-beam assist are standard. Blind spot monitoring, rear cross traffic alert, as well as front and rear parking sensors are available via the $4,000 Technology Package. The $4,800 Advance Package brings a 10.5-inch head-up display and a surround-view camera.