The 2021 Hyundai Elantra and Santa Fe are the two latest vehicles to earn an award from the Insurance Institute for Highway Safety (IIHS). In the organization's testing, the two Hyundais did well enough to earn a Top Safety Pick award. Both vehicles missed out on the Top Safety Pick+ award because of their standard headlights.
Both the Elantra and Santa Fe did incredibly well in the IIHS' testing. They both earned "Good" ratings in all six crash tests and had "Superior" rated front crash prevention systems. The issue, is that the Elantra's standard halogen headlights were found to be "Poor" and the Santa Fe's standard LED reflector headlights earned a "Poor" rating for models built after March 2021 and a "Marginal" rating for vehicles built before January 2021. To get a Top Safety Pick+ award, a vehicle must come with either "Acceptable" or "Good" rated standard headlights as standard. It's a small difference, but it stops the two Hyundais from earning the IIHS' highest award.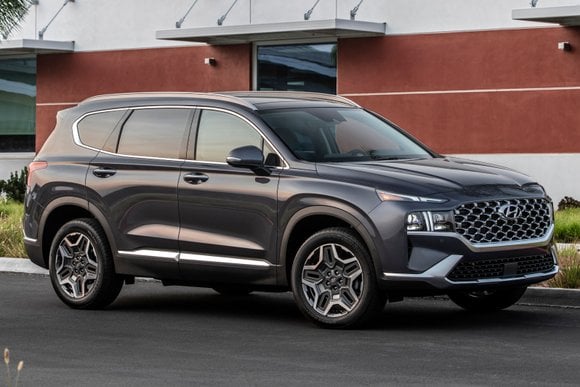 In the compact class, the Elantra's Top Safety Pick award matches the majority of the class. The Mazda Mazda3 and Honda Insight are the only two that have earned a Top Safety Pick+ award from the IIHS in the segment. With the Top Safety Pick award, the Santa Fe matches the Ford Edge, Kia Sorento, and Kia Telluride. The Ford Explorer, Mazda CX-9, Nissan Murano, Subaru Ascent, and Toyota Highlander are Top Safety Pick+ award winners.
In total, Hyundai has nine IIHS award winners. The Hyundai Elantra, Veloster, Sonata, Kona, Tucson, Venue, Palisade, Santa Fe, and Nexo have all won safety awards from the IIHS. The Palisade and Nexo are the automaker's only Top Safety Pick+ award winners. Hyundai has some of the most award winners, as Nissan (five), Honda (six), Mazda (seven), Volkswagen (two), and Ford (five) have award-winning vehicles. Toyota (nine) and Subaru (nine) match Hyundai's total figure.
Going forward, if Hyundai wants the 2021 Elantra and Santa Fe to earn the IIHS' Top Safety Pick+ award, it will have to update the vehicles' headlights. Replacing the standard headlights with ones that earn an "Acceptable" or "Good" rating will improve the vehicles' rating. Since these vehicles are competitive in their respective segments, we don't see that happening, but it's a possibility. Both the Elantra and Santa Fe have fared well in the IIHS' testing in the past, winning one of the organization's awards annually since 2017.