If you go by the Insurance Institute for Highway Safety's (IIHS) ratings, large pickup trucks are some of the least safe vehicles on the market. Only one large pickup truck has ever been named a Top Safety Pick+ and that was the Ram 1500, which won the award last year. While pickup trucks tend not to do well in the IIHS' testing, most automakers improve their scores every model year. While that's generally the case, that's not what happened with the 2021 Nissan Titan, which actually earned lower ratings than older models.
In 2019, the Titan earned a rating of "Good" in all six of the IIHS' crash tests. The 2021 model earned a rating of "Good" in five tests, as the pickup did worse in the passenger-side small overlap front test, earning an "Acceptable" rating. Why the change? For 2020, Nissan changed the Titan's hinge pillar, front frame structure, lower sill, and roof rail, while adding driver-side knee airbags. Passenger-side knee airbags were added for 2021 models. Adding more airbags isn't a bad thing, but the changes Nissan made to the frame and body negatively affected how it did in the crash tests.
The 2021 Titan also did worse than the 2019 model year when it came to its headlights. Both headlights in the new Titan earned a rating of "Poor," while the 2019 Titan's headlights earned a "Marginal" rating. It's strange because 2021 models come with high-beam assist for both headlights. The available headlights on the Pro 4X, SL, and Platinum trims are LED projectors for both the low beam and high beam, while the 2019 model year came with LED projector low-beam headlights and halogen reflector high-beam headlights. One would assume that the LED projector lights would be better, but that doesn't appear to be the case.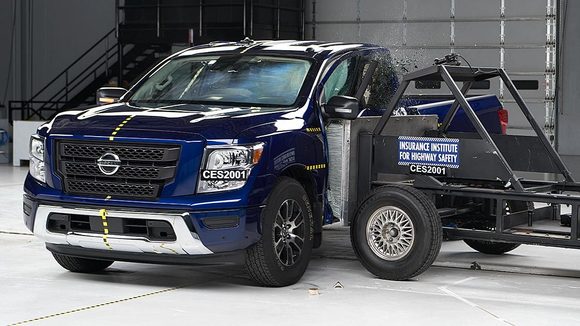 Seeing a newer vehicle do worse than a previous vehicle is rare, but it does happen. The BMW 3-Series went from being a Top Safety Pick+ in 2019 to being named a Top Safety Pick in 2020. Most of the time, newer vehicles get worse ratings from the IIHS because of changes in the way vehicles are scored. Such is the case with the 3-Series, which saw its score go down because of changes the IIHS made to its requirements for headlights.
For consumers, this means 2019 Titans are safer than 2021 models – the IIHS did not complete all of its testing on 2020 models. Shoppers interested in purchasing a Titan should look into getting a used model that doesn't have the frame and body changes that were put into effect in 2020. We're sure Nissan will address these issues in the near future, as automakers look to fix these kinds of issues as soon as possible to be more competitive safety-wise.
Compared to other large pickup trucks, the 2021 Titan did relatively well in the IIHS' tests. Only the Ram 1500 and the Ford F-150 earned ratings of "Good" in all six crash tests. The Chevrolet Silverado 1500 earned a "Marginal" rating in the passenger-side small overlap front test and a "Good" rating in the other five. The Toyota Tundra did horribly in the IIHS' tests, earning a "Good" in only three tests. In the passenger-side small overlap front test, the Tundra earned a rating of "Poor."