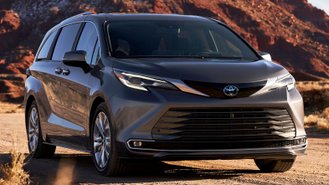 The Toyota Sienna may be good at hauling people and cargo around, but it hasn't stood out for its crash-test ratings from the Insurance Institute for Highway Safety (IIHS). The last time the Sienna earned the institute's highest award of being named a Top Safety Pick+ was back in 2015. Since then, the minivan has missed out on one of the IIHS' awards. There's some good news for shoppers, and for Toyota, as the all-new 2021 Sienna was recently named an IIHS Top Safety Pick+.
Compared to the 2020 model, the 2021 Sienna performed better in the IIHS' crash tests. The all-new minivan earned a "Good" rating in all six tests. The 2020 minivan earned an "Acceptable" rating in the driver-side small overlap front test and a "Marginal" rating in the passenger-side small overlap front test.
Beyond the crash-tests, the 2021 Sienna comes with better headlights than last year's model. The new minivan comes with "Good" rated headlights as standard throughout the lineup. While the new Sienna is available with two different sets of LED projector lights, both earn a rating of "Good." The decision to offer two sets of headlights that earn a rating of "Good" comes after new IIHS standards have pushed automakers to eliminate low-quality headlights. The headlights on the 2020 Sienna were found to be "Acceptable." In the front crash prevention tests, the 2021 Sienna earned a "Superior" rating in the vehicle-to-vehicle test and an "Advanced" rating in the vehicle-to-pedestrian test.
For consumers, having a vehicle come with standard headlights that earn a "Good" rating may seem like a small thing. But it's not. Unlike a lot of other vehicles, consumers shopping for a 2021 Sienna won't have to upgrade to a higher trim level or get an optional package if they want the best headlights. That's been the case with a lot of other award-winning models.
There aren't too many minivans on the market these days, but of the few on the market, only two earned an award from the IIHS. The 2021 Sienna is one of them, while the 2021 Honda Odyssey is the other. Unlike the Sienna, the Odyssey only comes with "Acceptable" rated headlights.
While minivans are usually seen as being some of the safest vehicles on the market, fewer and fewer models are earning an award from the IIHS. In 2017 and 2018, the Kia Sedona, Honda Odyssey, and Chrysler Pacifica won an award from the institute. In 2019, only the Odyssey and the Pacifica won awards. For 2020, the Sienna and the Odyssey are the only award-winning minivans on the market.