Tesla is going against every other automaker by ditching radars to move to a camera-focused system called Pure Vision. The move affects new Tesla Model 3 sedans and Model Y crossovers and is already causing some hardship for the automaker. Both Consumer Reports and the Insurance Institute for Highway Safety (IIHS) have pulled their awards for the electric vehicles because of Tesla's decision to stop using radar with these two cars.
Tesla Model 3 and Model Y EVs built after April 27 will not be considered a Top Pick by Consumer Reports, while the IIHS will remove both vehicles' Top Safety Pick+ designation. The National Highway Traffic Safety Administration (NHTSA) will be updating its website to indicate that neither electric vehicle will come with automatic emergency braking, forward collision warning, lane departure warning, and emergency brake support.
The reasoning behind the changes differs for the organizations. For the IIHS, it claims that its tests and designations are for vehicles that come with radar. The organization will test the new Model 3 and Model Y with the new camera-based system when it becomes available. For Consumer Reports and the NHTSA, their changes have to do with the available safety features.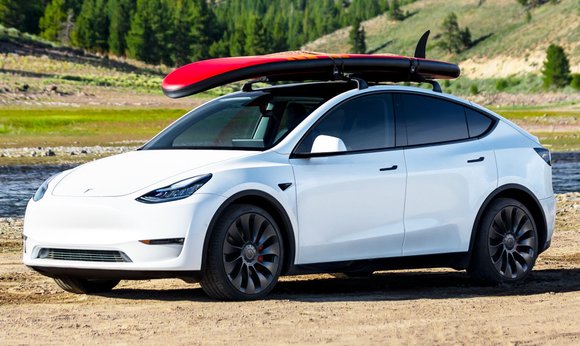 With Tesla ditching radar for a camera-based system, the automaker will be dropping some features until it gets more data from drivers. Forward collision warning, automatic emergency braking, Smart Summon, and Autosteer are expected to be missing from the Model 3 and Model Y when Tesla formally comes out with its camera system. Tesla expects to make these features available, once it gets the necessary data, through over-the-air updates. The changes that Consumer Reports and the NHTSA are making are to provide consumers with current, up-to-date information.
"If a driver thinks their vehicle has a safety feature and it doesn't, that fundamentally changes the safety profile of the vehicle," says David Friedman, VP of advocacy for Consumer Reports and a former acting administrator of the National Highway Traffic Safety Administration (NHTSA). "It might not be there when they think it would save their lives."
While this sounds like a big deal, it's not. These are just ways for the IIHS, NHTSA, and Consumer Reports to ensure consumers know what's going on. Tesla is one of the few automakers that regularly pushes out new features and large updates with over-the-air updates. It may take the electric automaker some time, but we're sure these features will return to the Model 3 and Model Y down the road. We don't see these changes affecting consumer's interest in the two vehicles, as they still offer the most cutting-edge features and the longest range of all EVs in their class.
As Consumer Reports points out, this has happened before with Tesla. In 2016, a few Model X SUVs were sold without active automatic emergency braking. Tesla eventually fixed the issue, bringing the feature back after six months via a software update. In 2018, some Tesla owners lost access to automatic emergency braking for roughly a day after the brand pushed a software update through. The majority of Tesla owners understand that they're beta testers for the automaker and don't have a problem with the issues, as they're getting the latest and greatest EVs on the market.