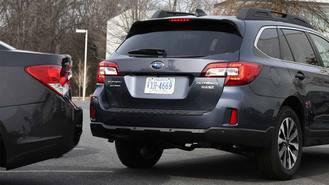 Rear automatic emergency braking (AEB) doesn't get nearly the same attention as forward AEB. While studies have shown that forward AEB can save lives, there haven't been too many studies on rear AEB and its benefits. If you've been wondering if rear AEB is a feature worth getting, the Insurance Institute for Highway Safety (IIHS) believes that it is. Rear AEB probably won't save your life, but it reduces your likelihood of getting into a collision and can save you some money.
In an analysis conducted by the Highway Loss Data Institute (HLDI), rear AEB was a standout safety feature in helping drivers avoid a collision. The system, which utilizes sensors, radar, or cameras to sense if the vehicle is about to hit an object and apply the brakes when reversing, was found to be far more effective than rear parking sensors and rear cameras at preventing a collision.
Insurance data from HLDI's analysis for Subaru vehicles from 2015 to 2018 and General Motors vehicles from 2014 to 2015 found that vehicles equipped with rear AEB had 28% fewer property damage liability claims and 10% fewer collision claims across both automakers. What this means for consumers, is that a vehicle with rear AEB can help you avoid a collision and save you some money.
"We haven't seen that kind of reduction in claims for vehicle and other property damage from any other advanced driver assistance system," said HLDI Senior Vice President Matt Moore.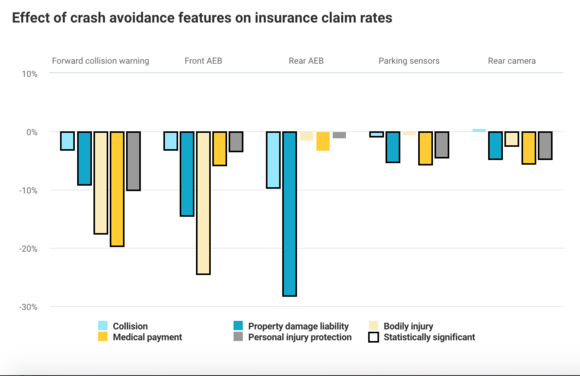 Unlike forward AEB, rear AEB predominantly works at low speeds, which means injury crashes are unlikely. With vehicles being packed with all sorts of sensors, cameras, and radar systems, even a slight fender bender can result in a pricey fix. So, while rear AEB won't save as many lives as forward AEB, it's likely to save you in damage costs.
There aren't that many automakers that offer rear AEB as standard. As far as we know, Nissan's the only automaker that has the feature as standard on a few vehicles, while Subaru, Acura, Toyota, Ford, Cadillac, Lincoln, and Volvo offer rear AEB as an option. With the IIHS finding that rear AEB can help prevent collisions, there's a good chance that it will force automakers to offer the feature on its vehicles by coming out with new crash tests. A similar thing happened with forward AEB in 2015, when 20 automakers came together to voluntarily introduce AEB on its vehicles. Currently, the IIHS only tests a vehicle's front crash prevention system.
While rear AEB is a relatively new feature, automakers offer a few other features to help drivers reverse. Rear cross traffic alert, rear parking sensors, and surround-view cameras are other features that are offered.