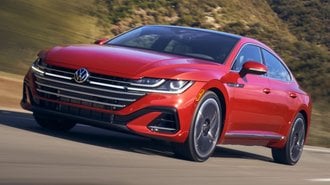 In the Insurance Institute for Highway Safety's (IIHS) latest tests, the 2021 Volkswagen Arteon received a Top Safety Pick award. Despite coming with an updated front crash prevention system from last year, the 2021 Arteon earned the same score as last year. Additionally, the sedan missed out on the organization's highest safety award because of its headlights.
The Arteon earned a score of "Good" in all six of the IIHS' crash tests and the new front crash prevention system earned a rating of "Superior" in the vehicle-to-vehicle test and an "Advanced" in the vehicle-to-pedestrian test. The 2021 model year earns the same scores in the front crash prevention system tests as the previous model year.
The luxury sedan comes with LED projector headlights that earned a "Poor" rating. That score meant the best the Arteon could do was to be named a Top Safety Pick. The SEL R-Line and SEL Premium R-Line trims come with different LED projector headlights that earned a "Good" rating.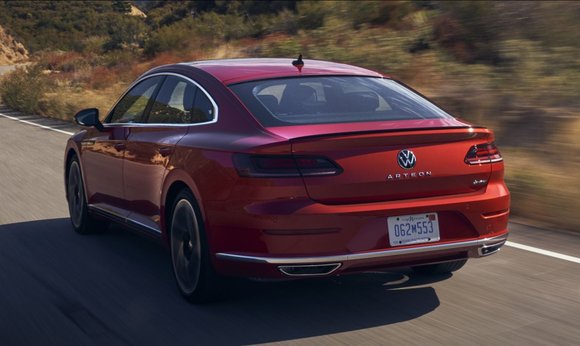 The IIHS categorizes the Arteon as a large car that competes with the Kia Stinger – another Top Safety Pick award winner. We think the Arteon is more of a compact sedan that competes against the Genesis G70, Volvo S60, and Lexus IS, which are all Top Safety Pick+ award winners. Other compact luxury sedans like the Audi A4, BMW 3-Series, and Mercedes-Benz C-Class, won the IIHS' Top Safety Pick award. Compared to these cars, though, the Arteon isn't nearly as popular. So, earning a similar award could seal the deal in a few consumers' minds.
With the latest award, Volkswagen now has two vehicles with the Arteon and Tiguan that have earned the Top Safety Pick award from the IIHS. That puts Volkswagen well behind the competition. Honda (six awards), Mazda (seven awards), Hyundai (seven awards), Kia (eight awards), Genesis (four awards), Volvo (14 awards), and Lexus (five awards) have far more award winners than Volkswagen.