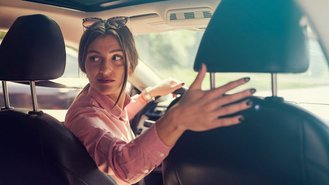 A new law has finally gone into effect that requires all new cars built after May 1, 2018 to have a backup camera as standard equipment. No longer will the technology be an option. Back in 2014, the U Department of Transportation issued the new standardization decree making the safety technology a requirement for all vehicles made for the US market.
The process to make backup cameras standard in new cars started nearly a decade ago, according to Peter Kurdock, deputy general counsel with the Advocates for Highway and Auto Safety, who spoke with Car and Driver. The process started during the George W. Bush administration.
Advocates for Highway and Auto Safety are also working to have other safety technologies standard equipment in the future, such as blind-spot warning, lane-departure warning, and automated-emergency braking. Data from Insurance Institute for Highway Safety shows these technologies reduce collisions and accidents. While there is no federal requirement to add such technologies right now, 22 automakers will make automated-emergency braking standard by 2022.
Backup cameras help drivers see behind them when reversing. Cars and crossovers are larger than ever before, making rearward visibility difficult. The technology allows drivers to see the path behind the vehicle, so they can make sure there's nothing behind them, such as a child or another car.