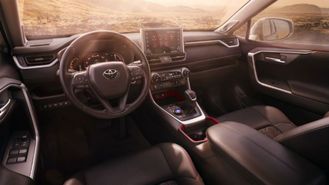 With automakers cramming more and more technology into vehicles, interiors are getting more complicated and harder to navigate. Interior design has taken a back seat as touchscreens and digital controls become the norm. While this is a trend that we're starting to see across the entire industry, WardsAuto found some modern cars that have interiors that are both aesthetically pleasing and easy to use in its list of 10 Best Interiors for 2019.
This year's honorees (low to high in terms of pricing) include: the Nissan Kicks, Toyota RAV4, Hyundai Santa Fe, Genesis G70, Jeep Gladiator, Mercedes-Benz A-Class, Volvo V60, Lincoln Nautilus, BMW M850i, and Bentley Continental GT. WardsAuto's list clearly has a good mix of high-end luxury vehicles and affordable crossovers.
The outlet's judges scored each vehicle on various things, including fit-and-finish, ergonomics, aesthetics, comfort, and user-friendliness. Obviously, there's no price cap, because the most affordable vehicle (the Kicks) had an as-tested price of $23,330, while the most expensive car (the Continental GT) cost $276,730.

While we won't go into excruciating detail on what WardsAuto liked about every vehicle, here's the SparkNotes version.

The Kicks made the list because of dressed-up colors and materials that help elevate the cabin. The outlet also liked the crossover's orange stitching, ergonomics, and comfortable seats.
With the RAV4, judges were impressed with the Limited trim's upscale features, angular design, and complex shape of the center cup holder.

The Santa Fe has been on WardsAuto's 10 Best Interiors list seven times before, and 2019 marks the eighth time Hyundai's SUV has been named a winner. Judges liked the Santa Fe's fit-and-finish, which they claimed was impeccable, and the design of the wood trim.
With the G70, judges couldn't find a fault with the cabin, claiming the sedan "does everything well." The outlet found that Genesis really focused on the small things, which results in a premium cabin.


The all-new Gladiator is an honoree because of the truck's innovative storage bins. With things like a storage space below the seat bottoms, optional floor bins, and seatbacks that can be locked in place, the Gladiator makes focusing on off-roading enjoyable.
Mercedes-Benz introduced the A-Series as its entry-level car, but the car hardly feels entry-level with the slick MBUX system and gorgeous details like the turbine-shaped vents.

For the V60, the plaid seats won the judges over, while the Nautilus wooed the judges with its "light, airy and beautiful" cabin.
The sporty M850i coupe was found to have an interior that takes things "to another level" for BMW with opulent leather and real metallic trim.
Lastly, the outlet liked the Continental GT's upscale digital displays and driver interfaces. They were also impressed with the high-end touches and finished found on the Bentley.