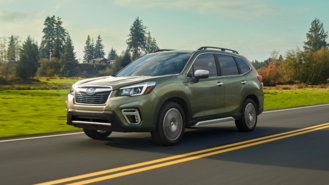 It's that time of the year when Consumer Reports releases its thorough list of the best and the worst automakers. For the first time in the outlet's best and worst automaker's list, Subaru ranked at the top thanks to the all-new Ascent, Forester, and Crosstrek. Unfortunately for Fiat, the brand came in dead last.

Last year's winner, Genesis fell to second place, while Porsche came in third. Audi and Lexus, respectively, ranked in the top five. The most notable increase was Lincoln, which increased nine spots to nab eighth place. Lincoln is also the highest American automaker on the list, depending on its strong reliability scores for the Continental sedan. Mini also made a drastic 10-spot jump up to number 15.

The bottom five automakers – in order from better to worse – include Jeep, Mitsubishi, Land Rover, Jaguar, and Fiat. Tesla and Chrysler tied for making the largest drop, as both automakers fell 11 spots – Tesla ranked in at 19, while Chrysler at 22. In fact, American brands, besides Lincoln, didn't fare too well in Consumer Reports' rankings. Ford came in 20th, Chrysler 22nd, Chevrolet 24th, Dodge 25th, Cadillac 26th, GMC 27th, and Jeep 29th.

In order to make its best and worst automakers list, Consumer Reports examines scores from four areas: the outlet's own road-test score, a score based on the automaker's overall predicted reliability, owner satisfaction ratings from a survey Consumer Reports puts out, and overall performance in crash tests, as well as the availability of key safety features.


With all of that in mind, Subaru ranked at the top, as the automaker had an overall score of 81. Subaru has good predicted reliability, good owner satisfaction, an average road-test score of 85, and Consumer Reports recommends seven out of eight vehicles it's tested from the automaker. Fiat, on the other hand, had a score of just 44. It had one of the worst predicted reliability ratings, poor owner satisfaction, a road-test score of 61, and the outlet doesn't recommend any of its vehicles.