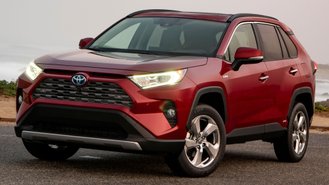 Choosing a vehicle to purchase for a teen driver isn't an easy task, but Consumer Reports and the Insurance Institute for Highway Safety (IIHS) have made things a little easier by coming out with a list of new vehicles they recommend for teen drivers. Unlike the last list of used vehicles, this is a list of new cars. So, there are a few key differences, like pricing and available safety features.
While Consumer Reports and the IIHS' used car list had vehicles that ranged from $5,300 to $19,600, the list of new vehicles has cars that are priced from $21,000 to $37,000. The majority of vehicles on the list are available for under $30,000, but, as one would expect, new cars are much more expensive than used cars. Beyond being new vehicles with more technology, advanced crash structures, and convenience features, there can be a large difference in safety in a single lineup. For a few models, the two organizations recommend higher trim levels to gain safer features, mainly headlights.
For instance, the 2020 Toyota RAV4 is on the list, but only for the Hybrid Limited trim with adaptive front headlights. While the RAV4 Hybrid starts at $29,616 (including destination), the Limited costs $39,070 and requires a $2,455 package that brings adaptive headlights. The list is certainly helpful, but you have to pay close attention to what trim level and optional packages are needed, as some recommendations are far more expensive than others. Case in point, the organizations recommend the Mazda CX-5 without any optional packages or trim levels, which costs $26,370.
As the IIHS points out, parents usually tend to gravitate toward buying teen drivers a small, affordable vehicle with minimal features for their first car, but that can be a mistake. "But we know that teenagers are among the riskiest drivers, so it's important not to skimp on safety," said IIHS President David Harkey. "Spending a bit more for state-of-the-art crash protection and crash avoidance features is a worthy investment in your child's future."
All of the vehicles on the list are either Top Safety Pick or Top Safety Pick+ choices. Additionally, having vehicle-to-vehicle automatic emergency braking as standard was a requirement. Using Consumer Reports' member surveys, the two organizations also made sure to recommend vehicles with average or better reliability. You won't find sports cars, high-horsepower vehicles, large SUVs, or pickup trucks on this list because high-power cars and large vehicles can be more difficult for teens to drive.