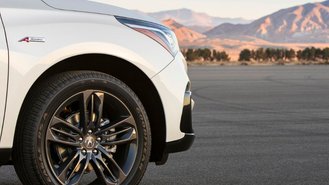 At this year's Detroit Auto Show, Acura took the wraps off of the RDX Prototype. The concept, as its name implied, was the brand's way of showing what's to come for the 2019 model. Now, Acura has released a sole teaser image of the production variant of the SUV that will make its debut at the New York Auto Show later this month.
The lone image shows the front passenger fender, so there's not a lot to see here. The fender has the same muscular lines as the concept and there's a noticeable "A-Spec" badge. The 2019 model year will mark the first time one of Acura's SUV has received the brand's sporty touches.
While the concept wore a dazzling shade of red and had some chrome trim pieces, the pictured SUV is finished in white, which is a hallmark touch of Acura's A-Spec vehicles, and has black trim. The wheels also look different. The concept wore 10-spoke wheels, while the production version is sporting chunkier five spoke wheels.
The concept made waves for being powered by a 2.0-liter four-cylinder turbocharged VTEC engine that was paired to a 10-speed automatic transmission. Acura confirmed that the production version of the RDX will be powered by the 2.0-liter turbocharged engine and 10-speed automatic gearbox combination, but the automaker didn't provide any specifics on output or performance, which will probably be announced at the SUV's official unveiling.
The third-gen RDX will also feature Acura's Super-Handling All-Wheel-Drive system instead of the old model's all-wheel drive with intelligent control system. Acura claims the new drivetrain will make the RDX the quickest and best-handling version of the SUV ever. To that end, Acura also stuffed its Integrated Dynamics System into the SUV that it claims is inspired by the NSX supercar.
Going back to the design for a second, the third-gen RDX will be designed and developed in America for the first time in the SUV's history. Acura's Los Angeles design studio did the styling, while development was completed in Raymond, Ohio, at Honda's North American research and development facility. The new VTEC engine will be made a stone's throw away, in Anna, Ohio.
The 2019 RDX and RDX A-Spec will be unveiled on March 28 at the New York Auto Show. For Acura fans that won't be able to attend the event, the automaker will have a live-stream of the SUV's debut for everyone to watch.