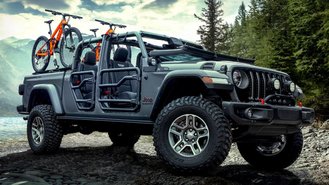 Jeep fans have been waiting for a pickup truck from the American brand for quite some time. So the new Gladiator's popularity shouldn't really be a surprise. What is surprising, is just how much money consumers are spending on accessories when they're purchasing a Gladiator. It's only been a few months since the Gladiator's been on the market, but it's already bringing in more accessory sales than the Wrangler.

According to Automotive News, on average, Gladiator buyers are shelling out an extra $1,000 per purchase on accessories. That bests Wrangler shoppers who are paying approximately $800 on extras. Unsurprisingly, Gladiator buyers are specing their pickups with things that should make their trucks better at off-roading. Mopar's head of performance and accessories, Kim Mathers, claims lift kits and protective rock rails are popular.
Jeep anticipated the popularity of its Mopar accessories on the Gladiator and claims it had stocked 90% of Mopar products at dealerships at the time of the truck's launch.

Searching through the Mopar store for Gladiator accessories reveals a host of goodies ranging from a $13 hitch receiver plug with a Jeep logo to a high-performance front axle that costs $4,678.80. Sorting the accessories by popularity shows that consumers are purchasing wheel locks ($65), the hitch receiver plug, a locking gas cap ($30.85), Mopar's Electronic Vehicle Traffic System ($424), and 17-inch beadlock-capable wheels ($395).

Going forward, Mopar will continue to offer new accessories for the Gladiator and will rely on consumer feedback from events like SEMA and the annual Easter Jeep Safari, said Mark Bosanac, head of Mopar service, parts, and customer care. More accessories, especially those that are unique, will continue to be offered to allow customers to create their perfect Jeep. Clearly, customers are willing to pay a little extra to do just that.