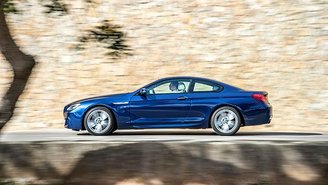 BMW has eliminated the coupe body style from the 6-Series and M6 lineup, narrowing its 2018 offerings to the 640i, 650i, and M6 convertible and GranCoupe. BMW executed the hardtop quietly in February, a representative for the company confirmed to Road and Track.
As is typically the case, the 6-Series Coupe suffered from agonizingly weak sales, with just 201 units – of all body styles – sold the month BMW discontinued it.
But the death of the 6 Coupe also comes as spy shots continue to pop up showing the new 8-Series Coupe. Destined to be more luxurious, the 8-Series will compete more directly with the Mercedes-Benz S-Class Coupe, which is an area the old 6-Series struggles in.
BMW's decision to trim the 6-Series Coupe line down to just two body styles probably won't last too long – the convertible body will likely meet a similar fate as 8-Series development proceeds.
As for the 6-Series GranCoupe, its days seem numbered, too. The saving grace for the 6-Series line, though, may be with the hunchbacked 5-Series GT. Rumors suggest BMW will attach the 6-Series badge to that model's successor.