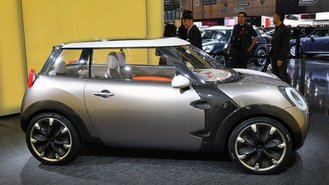 Toyota has teamed up with Subaru on the FR-S and BRZ, but the world's largest automaker is now looking to team up with BMW to come with an all-new model that will operate under the MINI nameplate sometime in the near future. Think: BMW Yaris.
See MINI's Complete 2015 Model Lineup »
The new model, dubbed the MINI Minor will be one of the most affordable vehicles with a price of around $15,300. That would be a steep $6,250 less than the current 2015 MINI Hardtop.
The Minor will not only come in at a smaller price, but a smaller stature as well, making it easier to park and drive in the cramped and confined streets of busy cities like Los Angeles and New York. However, there are no promises as to whether BMW and Toyota will bring the new model to U.S. soil.
What do you think? Would you be interested in a sub-$16k MINI made by BMW and Toyota?