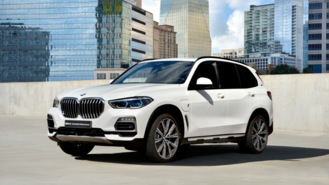 With the rise of plug-in hybrid and electric vehicles, a lot of automakers are moving away from diesels and ending production of the oil burners as a whole. BMW is the latest automaker to throw in the towel for diesels and the change will take place after the 2018 model year for consumers in the United States.
BMW spokesperson Alexander Schmuck confirmed the news to Motor Authority, stating "we are putting all our eggs in the PHEV basket." BMW made the announcement at the same time as it confirmed some specs for the 2021 X5 xDrive45e plug-in hybrid. The upcoming generation of the X5 PHEV will be able to travel 40 miles on electricity alone – a drastic improvement over the current X5 plug-in hybrid that has an electric range of 14 miles.
The decision to pull the plug on diesels most likely has a lot to do with demand, as oil burners have become less popular since Volkswagen's diesel scandal in 2015. BMW isn't the only German automaker that has decided to stop selling diesels in the US, as Mercedes-Benz announced a similar move at the beginning of 2018.
Besides demand, moving toward a plug-in hybrid-heavy lineup also helps BMW follow through on its plans to launch 25 electrified vehicles by 2025. Twelve of those vehicles will be battery-powered.
If you want a diesel powertrain in a BMW, you still have some options to explore. The BMW 3-Series is available as the 328d sedan and wagon, the 5-Series is offered as a 540d model, and the X5 is available as the X5 xDrive35d. You'll have to act fast, though, as once the current ones are gone, they're gone for good.