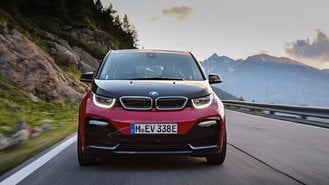 The 2018 BMW i3 got a few important improvements at the Frankfurt Auto Show and now, as BMW Blog via Inside EVs reports, the compact electric vehicle is expected to get its second battery upgrade in the near future.
As BMW Blog states, the i3 will benefit from a new, larger battery option for 2018 that will arrive towards the end of the year. The new battery pack that will be released next year, as BMW Blog claims, will have a total capacity of 43.2 kWh and have a range of 150 to 155 miles on a single charge. That's an increase of roughly 41 miles or 25 percent over the current battery. The range-extended variant of the i3 with the new 43.2-kWh battery is expected to have a range of approximately 230 miles, which makes it a more direct competitor against other EVs on the market.
The new Nissan Leaf features a 40-kWh battery that allows the Japanese EV to travel 150 miles on a single charge. The Tesla Model 3 will have two available battery packs, including a 50-kWh battery that's good for 220 miles and a larger 75-kWh pack that increases range to 310 miles. The last competitor in the segment is the Chevrolet Bolt, which carries a big, 60-kWh battery pack that allows it to cover 238 miles on a single charge.
While the i3 has only been on sale for three years now, BMW upgraded the EV's battery pack in 2016, which is the same one that's found in the current model. When the i3 was introduced back in 2014, the vehicle was equipped with a 21.6 kWh battery that was good for a range of 81 miles. The first upgrade saw the battery increase to 33.84 kWh, increasing the range to 114 miles.