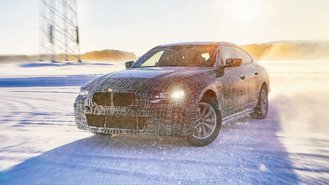 Last March, reports indicated that BMW was looking to expand its i brand of electrified vehicles with a new i4 all-electric sedan. It looks like the reports were right, because BMW is now putting out more information on the vehicle. If BMW manages to meet the initial specs on the upcoming i4, the EV will certainly be impressive. The German automaker is aiming for an output of 530 horsepower and a range of up to 373 miles, but that's on Europe's WLTP tests. Still, BMW's clearly gunning for the Tesla Model 3.
The i4 will come with an 80-kWh battery pack and an electric motor setup that can pump out 530 horsepower. The power will help the i4 sprint from zero to 62 mph in 4.0 seconds. As far as range goes, BMW's claiming a total of 373 miles. That number is on Europe's WLTP testing and not the EPA range cycle that we use in the United States. Expect figures to be lower than 373 miles when the EPA finishes its testing with the vehicle.
Charging will be impressive with the i4, as well. The electric sedan will be able to be plugged into a 150-kW DC fast charger that's capable of adding 80% of the vehicle's total range in just 35 minutes. The numbers break down to roughly 62 miles every six minutes.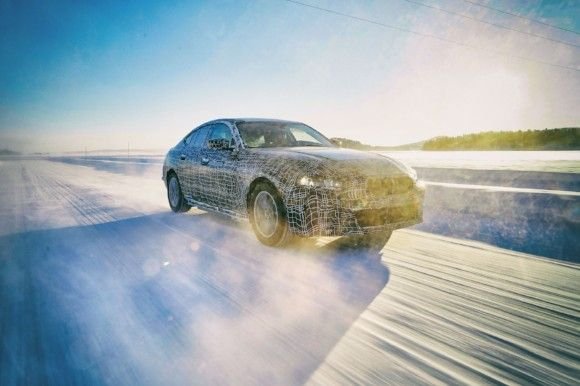 BMW's will also be using its new fifth-gen BMW eDrive technology in the i4. The new system incorporates the electric motor, transmission, and power electronics in a single housing, which allows weight to be kept down to a minimum and results in an increase in power density. New high-voltage batteries are also coming with the i4. They're smaller and flatter than before, allowing BMW to pack them into the floor easier.
Compared to BMW's other models, the i4 will be similarly sized to the 4-Series Gran Coupe and looks pretty similar to that vehicle, as well. BMW released some pictures of a camouflaged i4 being tested in harsh winter conditions and from what we can see, the EV isn't as radical as the i3 or the i8.
Other than those specs, not a lot is known about the i4. The vehicle is expected to come out in 2021, following the all-electric iX3 crossover that's coming in 2020. There are a lot of other unknowns when it comes to the i4, but we expect the vehicle to be a rival to the Model 3, Chevrolet Bolt, Nissan Leaf, and Tesla Model S.