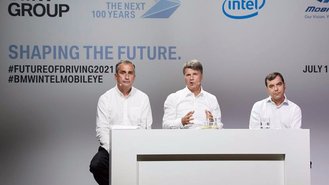 Another automaker has promised a fully autonomous car coming in the next few years – and with all-electric propulsion, too.
This time it's BMW, pledging to produce a full EV with a range of more than 300 miles, thanks to lightweight construction, according to Autocar. It'll be called the iNext.
But the real story here will be the iNext's ability to operate without human intervention at times. Dubbed "Level 3.5 autonomy," this degree of autonomous driving is beyond what automakers are offering today, but still within what many government agencies around the world would consider to be appropriate on public roads. In other words, you probably won't be able to take a nap or read the newspaper while the iNext chauffeurs you around.
While BMW is still determining under what conditions such a vehicle would be allowed to operate without driver input, the system is set to be adapted to other uses, such as future ride hailing services.
The iNext will be aligned with current BMW i models, the i3 and i8, rather than any current "series" model, so expect futuristic styling to go along with the futuristic tech it when it shows up around 2021.