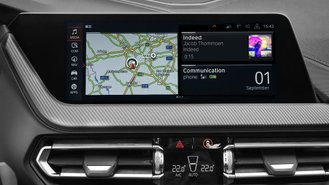 It may have taken BMW years to realize just how important smartphone integration is to consumers, but the German luxury automaker is finally giving customers what nearly every single other brand has for years: Apple CarPlay and Android Auto.
Not too long ago, BMW announced that Apple CarPlay will be free for 2019 and 2020 model years. Now, BMW's bringing Android Auto to its vehicles that have its latest "7.0" infotainment system starting in the middle of 2020. The stars must have aligned or Mercury must be in retrograde because this is a huge change for BMW.
Not only will BMW finally offer Android Auto for owners, but the brand is one of the first to feature wireless Android Auto in cars. If you're going to be late to the party, it certainly looks good to bring a unique party favor, which is exactly what wireless compatibility is. There's another party trick, as BMW's Android Auto integration will include displaying information on the driver-configurable instrument cluster and head-up display.
Just like with Apple CarPlay, BMW won't charge a fee for consumers to use Android Auto on a new vehicle. The automaker plans to showcase its Android Auto capability at the Consumer Electronics Show in 2020.
BMW's main competitors, Audi and Mercedes-Benz, have been offering Android Auto on its vehicles for years. Audi introduced the system back in 2016 with the Q7, while Mercedes offered Android Auto in the majority of its lineup since 2017. Nearly every other automaker, including non-luxury ones like Honda, Hyundai, Kia, Mazda, Subaru, and Volkswagen have offered Android Auto for years.