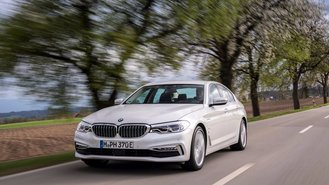 While some automakers are backing off of introducing diesel engines, BMW seems committed to them in the US.
The next versions of the 3-Series and X3 will offer diesel engines in the US, according to a report from BMW Blog. The X3, due sometime next year, and the new 3-Series sedan in 2019, are expected to offer a 2.0-liter four-cylinder turbodiesel with around 190 horsepower in the lineup. Today's versions offer a different 2.0-liter diesel marketed as the 328d Sedan and Sport Wagon and the X3 xDrive28d.
The just-launched 2017 5-Series sedan will also be joined by a diesel-powered model next year, Green Car Reports has confirmed (via Car and Driver). A new 3.0-liter turbodiesel six-cylinder will go into the 2018 540d model, which will effectively replace the 535d last seen in 2016. In Europe, where the model is called the 530d, makes 262 horsepower, up slightly from the old 535d.
Emissions certification hiccups with the EPA have kept some diesel models from reaching US showrooms in a timely manner, and that was the case even with some 2017 BMW models. This comes from the aftermath of the Volkswagen emissions cheating scandal that was revealed in 2015. VW, including Audi and Porsche, and Mercedes-Benz have cast a dim view on returning diesels to the US market, focusing on electrification instead.
But Jaguar, Land Rover, General Motors, and Mazda have announced new models that will still offer the technology. And BMW is apparently set on competing with them, too.