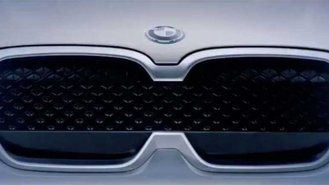 BMW's iconic kidney grille has been on the front of its vehicles for approximately 85 years. It's an iconic piece for the automaker that allows the brand's cars to stick on out on the road. BMW zealots won't be too happy to see the automaker's latest teaser for the Concept iX3, which tweaks the kidney grille into something less recognizable.

The German automaker recently took to Twitter to preview the front end of the Concept iX3 ahead of the vehicle's debut at the Auto China show in Beijing that takes place later this month. The short teaser sees BMW's kidney grille morph into an H-shaped design. Interestingly, Kia has come under fire for copying brands like BMW with its recent vehicles, but it looks like the German automaker has stolen a page out of the South Korean brand's book.

BMW only has two vehicles in the lineup of its electrified sub-brand, the compact i3 and the i8 plug-in sports car. That leaves a lot of room for other models to flesh out the range. While we know that it will be an electric vehicle, there's not a lot of other information that's available on the vehicle.

The "X" designation is something that BMW saves for its SUVs, so the Concept iX3 will most likely become the brand's first all-electric SUV. From the "3" in its name, we expect the Concept iX3 to be similarly sized to the gasoline-powered X3.

If it shares its shape with the X3, the Concept iX3 will compete against the Jaguar I-Pace and Audi E-tron Quattro in the burgeoning all-electric luxury SUV space. A production version of the Concept iX3 is expected to go on sale in 2020 and is one of just 25 electrified cars BMW plans to have in its lineup by 2025.