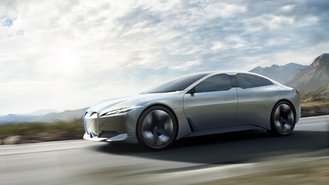 BMW's electrification plans include offering an EV battery with a range of over 400 miles, according to Automotive News Europe. Starting in 2021, BMW is launching two new vehicle platforms, and with them, three new battery packs: called the 30e, 40e, and 50e, these packs range in size from 60, to 90, to 120 kilowatt-hours, respectively.
The 50e packs the most range at up to 434 miles, while the 40e pack will offer up to 341 miles. The smallest pack still returns a respectable 279 miles per charge. BMW did not disclose how much power these battery packs would produce. However, the company did say the system could work with a large motor on the rear axle with a smaller one on the front for when the vehicle needed four-wheel drive.
Using multiple electric motors to simulate a four-wheel-drive effect isn't new, but according to BMW, both of its future EV platforms – a front-drive architecture called FAAR and a rear-drive setup called CLAR – could enjoy all-wheel motivation.
The German automaker will also use the new battery packs to offer performance EVs that the company says will accelerate to 62 mph in less than three seconds. The 50e would power three electric motors that deliver more than 268 horsepower each.