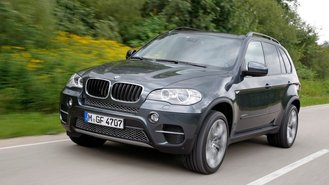 The BMW X5 is a top-rated premium SUV that sees very little discounting. Bad news, however: it just got more expensive.

Shoppers may notice higher lease payments in January, and it's not just because last month's holiday offers weren't renewed. It's because BMW raised prices on the X5 by up to $1,000.
The price changes on the X5 range between $700 and $1,000. The range-topping xDrive50i trim gets the biggest hike of $1,000 from $69,100 to $70,100, or 1.45%.
Price increases are not unusual in the automotive world. However, a 1.45% increase is larger than we typically see from BMW. It's also possible that the increases may feel even bigger since BMW raised invoice prices this month on their entire lineup.

According to CarsDirect analysts, the X5 sells well and is generally excluded from cash discounts seen on other models. Strong demand will likely keep prices high. Be sure to stay up to date with the latest information with our monthly analysis of BMW X5 incentives.

>> Read our analysis of current offers on the BMW X5

>> Research pricing and specs for all BMW models

>> Learn how recent BMW invoice price changes may impact the price you pay