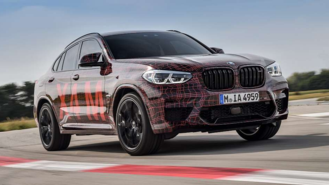 Last September, BMW gave everyone a glimpse at two of its upcoming M-badged SUVs: the X3 M and the X4 M. Besides releasing a few images of disguised prototypes, the German automaker didn't provide a lot of details. Now that it's 2019, we thought BMW would give out some more information on the high-performance SUVs, and we were right. But it's not the full thing. This time, it's a teaser video on BMW's Facebook page.

The short, 36-second clip sees the X3 M and the X4 M driving on various tarmac. You don't really get a good look at the SUVs in the clip, as the vehicles come in and out of view in quick flashes. The SUVs are also covered in camouflage, which makes things even tougher to pinpoint.

What the video does give us, though, is the raspy sound of the SUVs. The exhaust growl is obviously BMW and sounds awfully similar to a turbocharged inline-six. With the X3 M40i and X4 M40i both using a 3.0-liter turbocharged six-cylinder engine, we expect BMW to use a beefed up version of the same motor.

At the end, the ad simply says "Coming Soon," which points toward a possible debut at next month's Geneva Motor Show.

Whenever BMW does decide to bring the X3 M and X4 M to the market, the SUVs will face a lot of competition. There's the Mercedes-AMG GLC 63, Alfa Romeo Stelvio Quadrifoglio, Jaguar F-Pace SVR, Audi SQ5, and Porsche Macan Turbo with Performance Package. If BMW wants the vehicles to be the top dog, the models will have to match the F-Pace SVR, which has a 550-horsepower supercharged V8 engine. The least powerful of the bunch, the SQ5 makes 349 hp. The most powerful X3 and X4 you can get now have 355 hp.


Pricing hasn't been announced yet, and probably won't be until the SUVs go on sale. Just like all of the aforementioned options power figures, there's a large variant when it comes to pricing. The SQ5 is the most affordable vehicle and costs $53,395 (all prices include destination), while the Stelvio Quadrifoglio carries a price tag of $81,590. The 469-hp AMG GLC 63 is probably the X3 M and X4 M's main competitor and starts at $71,890.

The X3 M40i currently starts at $55,645, with the coupe-like X4 M40i starting at $61,445. More power, extra high-performance goodies, and a more aggressive design could see pricing swell well above $70,000.