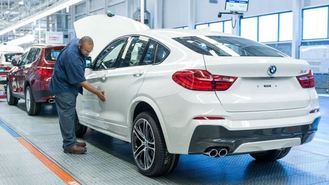 Right now, crossovers are on a full-blown sales tear, and the competition is heating up with new entrants from almost every manufacturer. The same can be said about their luxury-laden brethren, which are beginning to make their way into every region in America. From Southern California garages to Hamptons hideaways, the luxury crossover is the "it" vehicle right now. And these aren't to be confused with the boisterous body-on-frame behemoths of a bygone era. Rather, they're smaller unibody models which feature smarter packaging and better performance.
One manufacturer that's ramping up their crossover strategy is BMW. Ludwig Willisch, CEO of BMW North America is keeping his eyes framed squarely on the segment. He sat down in an interview with our friends at Automotive News for a quick but fruitful Q&A.
Shoppers Making the Switch
Willisch and BMW are having a tough time keeping up with red-hot demand as shoppers ditch their sedans for crossovers like the X3 and midsize X5. So what's the problem? Production capacity. To help alleviate that issue, last March, BMW invested $1 billion to upgrade their Spartansburg, SC factory.
In doing so, the factory will be better equipped to handle an increase in crossover production, including the upcoming X7. As it stands today, the factory can only pump out 300,000 units per year. But with the big factory upgrades, BMW estimates that 450,000 units can be produced annually, an increase of 50%.
Tough Competition
But though the increase in production will lead to more sales, the brand still lags behind the competition. Customers are flocking to Porsche's Macan in droves and the best-selling Lexus RX 350 continues to dominate the segment. Moreover, the Japanese brand's new NX 200t crossover has been selling at high clip, even without the big incentives many shoppers pine for.
Most Popular Luxury Crossover?
Interestingly, the recent upgrade to the brand-spanking new 2016 Acura RDX have proven to be huge, as it's currently not only the most shopped for crossover at CarsDirect, but the most shopped for vehicle, period. That's saying a lot, because all the cars on sale today have upped their game significantly.
Factor in a strengthening economy and lower fuel prices, and it becomes a little more clear as to why these models are gaining steam. And that's not mentioning the key selling point here: luxury crossovers offer almost everything a buyer could want--all at a reachable price point.
Incentives this Month
With Memorial Day coming up next week, sales and competition will begin to take off as the hot summer selling season begins. Incentives are a mixed bag for the luxury crossover segment, especially for the models which MSRP for under $40,000. Here are some of the current deals.