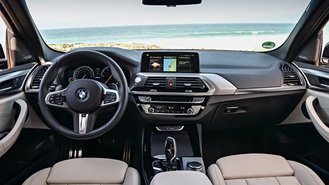 BMW has always done things a little differently. The German automaker, after all, is known for making "The Ultimate Driving Machine." Apparently, that means the automaker can charge whatever it wants for tech features, as long as its vehicles perform well. In a recent move, BMW oddly claimed that it would make Apple CarPlay a subscription-based service.

According to a report by The Verge, technology product manager for BMW North America, Don Smith, told the outlet that the automaker would charge owners $80 a year to have the service on their vehicles. To give an idea of how absurd this is, Honda offers CarPlay as standard on the 2018 Fit Sport, a vehicle that's just over half the price of BMW's most affordable model, the X1.

The reason for the switch, according to the Smith, is that it allows more consumers to switch phones and not have to feel remorse for purchasing the feature in the beginning, reports The Verge.
The decision also helps those that lease their BMWs, as it could potentially be cheaper than purchasing the feature outright. As The Verge points out, BMW has charged an additional $300 to add Apple CarPlay to its vehicle since 2017.

But the decision is kind of confusing, as BMW was one of the first automakers to offer wireless CarPlay in the latest-generation of the 5-Series. And while BMW told The Verge that its models would be compatible with Google Assistant later this year, Android Auto isn't offered on its vehicles at the moment. BMW, though, will add Amazon Alexa integration in 2018.

For a premium automaker that charges over $34,000 for its most affordable vehicle, charging $300 for Apple CarPlay was ridiculous from the start. Moving towards making the feature a yearly subscription service is just another way to squeeze more money out of consumers. With Audi and Mercedes-Benz both offering CarPlay and Android Auto as standard on most of their vehicles (for example, it's optional on the base Audi A3 but standard on every A4), it will be interesting to see if luxury shoppers make the switch to another brand because of the change.