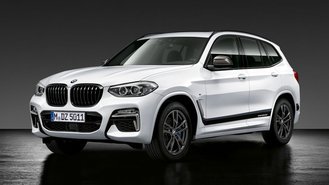 BMW will expand its X3 lineup later this year with the addition of a rear-wheel-drive version of the crossover. The new model will join the X3 xDriver30i and M40i, both of which launched late last year with all-wheel drive.
This isn't the first rear-drive X3. In 2012, BMW introduced the sDrive28i as the automaker saw an opportunity for a more affordable CUV in the US.
"That's something typically seen in this segment – especially in the southern states, there is volume potential for that," Ralph Mahler, BMW department manager for product planning and strategy, told Automotive News a media event in Southern California last week. "So that is something you will see within this year."
It's not clear when the rear-wheel-drive X3 will hit dealerships. It could come as a 2018 or 2019 model. When the new X3 becomes available, it should be the least expensive X3.
Currently, the entry-level xDrive30i starts at $43,645, which includes destination and handling charges. The xDrive30i comes with a turbocharged 2.0-liter engine making 248 horsepower and 258 pound-feet of torque. The new model would make sense around the $40,000 price point, closing the gap between the smaller X1 and the pricier, all-wheel-drive X3.
According to Automotive News, Mahler wouldn't say if the X3 lineup would expand to a fourth variant – a plug-in hybrid. Spy photos show BMW developing such a model.
The upcoming New York Auto Show could be the perfect venue for BMW to unveil the rear-wheel-drive X3.