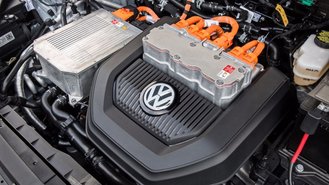 Volkswagen is nearing the end of the Dieselgate tunnel, as the settlement for the 2-liter engine is all but set and the 3-liter V6 TDI's settlement is likely not too far behind. But that doesn't mean the investigations are over.
A report from Bloomberg claims that U.S. and German investigators are putting the supplier of Volkswagen's diesel electronics, Bosch, under the microscope. The investigation is centered on whether or not Bosch conspired with Volkswagen to create the cheat device that allowed TDI engines to spew tons of dirty diesel emissions into the air.
Bosch, of course, had no comment on the investigation when Bloomberg reached out. Its spokesperson did, however, say that the German company is cooperating fully with investigators from both the U.S. and its home country. Should Bosch be found with blood on its hands, this would expand the already-record-setting $16.5 billion in fines.
Bosch isn't the only company being dragged in, either. IAV GmBH, another supplier of parts and software for VW, is also being pulled in as a possible co-conspirator. The Bloomberg report claims that 35 of IAV's employees were granted "special access" to "expanded software" for emissions.
While these investigations are red flags, they are in no way proof that either company is at fault. As the report notes, many automakers simply buy software from these manufacturers then modify them to work in their cars. It could very well be that IAV and Bosch simply provided the software and VW modified it to cheat emission tests.
We should learn more about this investigation soon.
For VW fans who aren't concerned with all of this, you're in luck, because there are loads of great deals on current, non-diesel Volkswagen cars. One of the best deals is on the 2016 e-Golf. This model has a stellar 36-month lease deal that runs $179 per month after putting $2,349 down at signing. This EV is also eligible for 0 percent financing for up to 72 months and $1,000 in finance bonus cash.