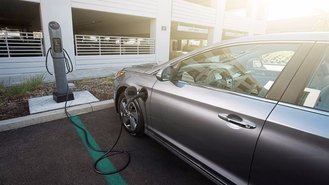 Oil major BP is in talks with electric car companies to build charging ports at its petrol stations.
"We have discussions going on with a lot of the EV manufacturers to have a tie-up with our retail network for charging," BP's Chief Executive, Bob Dudley, told Reuters in an interview.
BP estimates that 100 million electric cars on the world's roads by 2035, up from the nominal 1.2 million in 2015. However, if battery prices decrease sharply and legislatures continue to hold a negative sentiment toward gas- and diesel-powered cars, EVs could represent an even larger portion of cars on the road.
Naturally, to retain their revenue streams, BP and other petroleum companies are exploring EV investments and other green energy businesses. For instance, BP rival Shell has launched a trial program to construct charging ports at its stations in the Netherlands and the UK. Additionally, it has promised to invest $1 billion in renewable energy by 2025.
BP's move is yet another sign that oil's days are numbered. But whether the company can reach an agreement with an EV company or even a mainstream automaker remains another story.
As it stands, today's EV infrastructure remains woefully underdeveloped. For example, our colleagues at Green Car Reports published an extensive report detailing the inadequate charging infrastructure in metro Detroit. Aside from America's West Coast, it's fair to say there are numerous other markets with the same problem – BP could be the one to fix that, if it can find a dance partner.