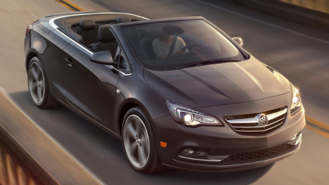 With crossovers stealing the hearts of new vehicle buyers across the country, cars are struggling to find a home. As a result, news that the Buick Cascada could disappear after 2019 isn't surprising.
The soft-top convertible struggled to move from dealer lots in 2017 with just 5,595 units sold. However, the slow sales won't be the Cascada's leading cause for the discontinuation. The Cascada isn't a Buick original; it's a badge-engineered Opel, and the German company isn't planning to replace the Cascada when its lifecycle ends at the end of 2019, which puts the future of Buick's version in doubt.
If General Motors wants to replace the Buick Cascada, it'll have to design and develop its own model because the American automaker divorced itself from Opel in 2017. While developing its own model could cut the Cascada's price tag, sale numbers would likely be abysmal.
The Cascada's high price tag certainly turned off some buyers. Produced in Poland alongside its Opel equivalent, the Cascada's features and powertrain didn't live up to its inflated cost, being nearly on-par with the cost of a new BMW 2-Series. Add the fact the Cascada featured a lackluster 1.6-liter turbocharged engine and cheap interior, and it's easy to understand why customers spent their hard-earned dollars elsewhere.