The onslaught of sedans and wagons at the hands of SUVs continues, as Buick is taking a page out of Ford's book by pivoting toward an all-SUV lineup. According to Motor Authority, Buick is killing off the Regal family after the 2020 model year, leaving just four SUVs in its roster.
"Buick continues to be ahead of the consumer shift toward SUVs. In fact, nearly 90 percent of Buick sales to date this year have been crossovers," Stuart Fowle, Buick and GMC communications manager, told the outlet. "Although the Regal will no longer be offered in the U.S. and Canada, it will be sold in China where demand for sedans remains significant."
The Regal family includes the Regal GS, Regal Sportback, and Regal TourX wagon. Since the LaCrosse sedan and Cascada convertible were discontinued earlier, the Regal's death leaves the Encore, Envision, Enclave, and Avenir – all SUVs – as Buick's offerings. The Encore is Buick's most popular offering, as the automaker sold 73,905 units of the subcompact SUV this year. The Regal, which was the automaker's best-selling car, accounted for 8,849 units sold.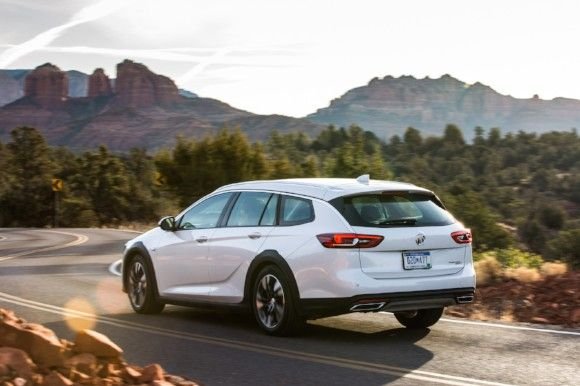 Based on Fowle's statement to Motor Authority, it looks like Buick's passenger cars weren't doing so well anyway. So hearing that Buick has pulled the plug on the models isn't surprising. The current Regal was introduced in 2018 and is currently built by Opel in Germany. With the death of the Regal in the U.S., Buick will shift production of a sedan variant of the model to China to be sold in that market.
With Buick only offering a handful of cars, the decision to discontinue the Regal won't impact the brand all that much. Of all the Regal's variants, the TourX will probably be missed the most, as it was a great option in a small segment. It's also troubling news for wagon fans, as the Regal TourX joins the Volkswagen Golf SportWagen and Alltrack as wagons that have left the U.S.
With Ford and Buick moving to have SUV-only lineups, we wouldn't be surprised to hear more automakers follow suit with similar plans. SUVs may have started as a trend, but they've quickly become the go-to options for the majority of consumers.