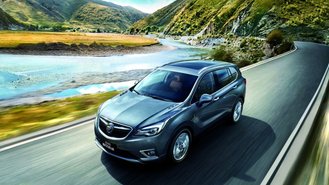 The Buick Envision – the Chinese-built crossover that slots between the Encore and Enclave – has a new face, a new transmission, and a few cosmetic changes in China.
Spotted by Carscoops, the updated Envision receives Buick's "flying-wing" grille, which is also on the newer Regal, LaCrosse, Encore, and Enclave. There's also a new front bumper with a sportier appearance. At the rear, Buick designers restyled the LED taillights and bodywork. Interior changes are minor.
This small update is overshadowed by the addition of a new nine-speed automatic that's slowly finding its way into other products from General Motors. It's an efficient, smooth, and capable transmission that works as well with naturally aspirated gas engines as it does with turbocharged diesels (and turbocharged gas engines, for that matter). The Envision here in the US happens to offer both a base naturally aspirated engine as well as a turbocharged, gas-powered four-cylinder.
With the Envision built in China, it feels like only matter of time before the changes make their way to the US. However, with the Detroit Auto Show just weeks away, don't expect to see the facelifted Buick Envision anytime soon.
Buick Brand Communications Manager Stuart Fowle told CarsDirect that the company won't be making any news at the 2018 North American International Auto Show in Detroit. Then again, automakers usually keep auto show news close to the chest. We'll find out in a few weeks in Detroit.