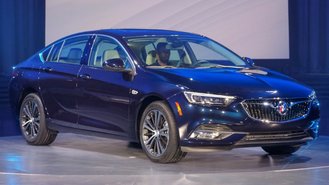 In addition to its striking new styling and variants, Buick is attempting to stir more waters with the 2018 Regal's price.
The company announced Wednesday the 2018 Regal Sportback would start from $25,915, some $2,000 less than the corresponding 2017 model. The Regal Sportback comes standard as a five-door hatchback, powered by a 250-horsepower, 2.0-liter turbocharged four-cylinder and with an 8-speed automatic. All-wheel drive will be an option.
Buick officials told Automotive News the base versions of the Regal Sportback are also intended to attract buyers who would have normally gone for the now-discontinued Verano compact sedan, hence the price cut.
The higher-performance Regal GS Sportback was also announced Wednesday, starting from $39,995. Equipped with a 3.6-liter V6 with 310 horsepower and standard all-wheel drive, it will feature more content and be aimed at compact luxury sedans such as the BMW 330i.
In February, the all-wheel drive Regal TourX wagon will go on sale from $29,995. But as CarsDirect previously reported, most versions seen on dealer lots will start from $35,000 and compete with higher-end versions of the Subaru Outback and Volkswagen Golf Alltrack, or the base model Volvo V60 Cross Country.
The previous Regal was a bit player among midsize sedans and Buick appears to be trying to appeal to different corners of the market with the new one. For buyers, this means there is more likely to be a Regal to suit everyone's tastes.