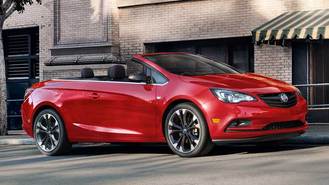 Buick is still trying to convince you that is, in fact, a Buick. And for Super Bowl 51, they pulled out the celebrity talent to draw attention.
Carolina Panthers quarterback Cam Newton appears in Buick's spot alongside the Cascada and redesigned 2017 Encore. Newton plays football alongside a pint-sized team, much to the amazement of one parent sitting in the stands.
Then towards the end of the ad, supermodel Miranda Kerr shows up, catching a referee very much off-guard.
This is the second year Buick has joined Super Bowl commercial line up. Last year's spot also featured the Cascada soft-top and used New York Giants player Odell Beckman Jr.
Buick has been using the "That's a Buick" line for several years now, getting viewers to look at the long-running brand in a new way after it introduced a raft of new products.