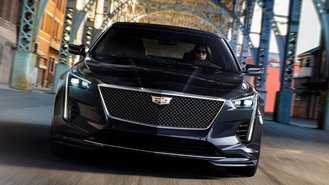 The Cadillac CT6-V and its glorious Blackwing twin-turbocharged 4.2-liter V8 drew a lot of attention from consumers, as the automaker filled all 275 pre-orders for the sedan within the same day. Cadillac then increased production capacity for the model and tacked on an extra $4,000 to the sedan's price tag, which was followed by another $3,100 increase for 2020. Unfortunately, whether you were a consumer that managed to snag a CT6-V at a lower price or a higher one, everyone's had to wait for their vehicle because of issues with emissions.
According to Cadillac Society, emissions-related setbacks have delayed deliveries of the CT6-V. "Earlier in the year, we informed customers who purchased the CT6-V that due to our commitment to quality and fine detail, their vehicle is taking a little longer than expected," Cadillac spokesperson Stefan Cross told the outlet. "We followed up with these customers again recently, providing an update on the progress of their vehicle along with a token of our gratitude for their patience."
The issue isn't specific to the CT6-V, though, as the outlet claims that CT6 models with the Blackwing V8 are coming up as being "in transit" for dealers across the country. While the delay pushed back deliveries by a couple of months – originally, the CT6-V was set to begin being delivered in July – Cadillac Society claims that the emissions-related issues have been remedied. So the sedans should be delivered shortly.
Despite the setback and the increases in pricing, the CT6-V is shaping up to be one of those rare vehicles that come out once in a decade. With emissions regulations and SUVs dominating sales, this very well could be the last high-performance V8-powered sedan from Cadillac. After all, it's not every day that a luxury brand comes out with a 550-horsepower sports sedan.