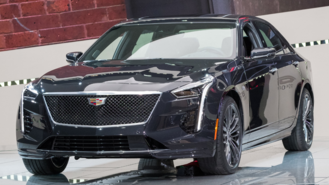 The 550 hp CT6-V isn't dead yet but will now cost you a lot more than it did before. Cadillac blew through the car's initial 275 pre-orders so quickly that the automaker is planning a "second installment" in order to meet demand. However, order guides reveal the brand is also increasing pricing by $4,000.
When Cadillac began taking orders in January, the car had an MSRP of $88,790 including destination. Effective this month, Cadillac has raised sticker pricing to $92,790, which equates to a $4,000 price increase with no changes in standard equipment.
For most buyers, this likely means Cadillac's Blackwing V8 is moving even further out of reach. As we reported last month, the brand is adding a detuned 500 hp version in the range-topping Platinum grade for the steep price of $96,790.
Whichever flavor of the brand's new V8 you intend to buy, plan on spending over $90k.
With the latest change, the difference in price between the V and Platinum grade V8 has been cut in half from $8,000 to $4,000. At the same time, the brand has widened the gap in price with the $87,990 CTS-V to $4,800 (from a mere $800).
In a communication sent to dealers, the brand says early customers "were rewarded with a special introductory offer by quickly raising their hand." However, some buyers may not appreciate what may be perceived as a $4,000 penalty for being late to the party.
Still, buyers should consider that German competitors like the 601 hp BMW M760i start at almost $160,000. As for the CT6 nameplate, GM recently extended production through early 2020 despite reports that the car would soon be discontinued.
For now, the CT6-V definitely isn't dead but will command a greater premium for the privilege of bringing one home. For those who may have thought that they missed out, this may end up being welcome news after all is said and done.