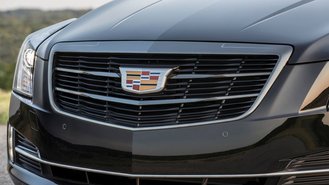 The Cadillac ATS was introduced six years ago as a competitor to compact German vehicles. While it was a worthy rival, especially in its ATS-V guise, a Cadillac spokesman told The Car Connection that the ATS sedan won't return for 2019.
There's some good news, however, as the two-door ATS coupe will come back next year and probably bring an ATS-V coupe variant with it. How long the coupe will last beyond 2019, though, is up in the air.
"Production of the ATS sedan is ending due to extensive plant upgrades, expansion and re-tooling to prepare for the next generation of Cadillac sedans," said Cadillac spokesman Donny Nordlicht. "Cadillac's future sedan portfolio will consist of three sedans, positioned in different segments and clearly differentiated by size and price."
As the outlet points out, the ATS and mid-size CTS model will get the axe to make way for the CT5. That sedan is expected to fall in between those two models in terms of size and pricing. The CT5 will join the full-size, flagship CT6 sedan that's already on sale. A smaller, more compact offering is also expected to join in the near future and will be named the CT4.
With more American consumers heading toward crossovers and SUVs, we can't say that we're surprised to hear that Cadillac is trying to shake things up with a fresh, new model. The automaker recently announced the introduction of the XT4 – a compact crossover – to slot underneath the XT5. Cadillac is also developing a XT6 that will have three rows to sit on top of the mid-size XT5.
If you've been eyeing an ATS sedan, now's the time to act, as the vehicle will reportedly stick around until the end of the year before disappearing.