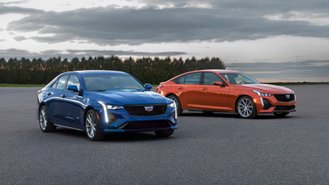 For Cadillac, there are few letters in its repertoire that excite fans more than the letter V. The letter represents the company's V-Series performance brand—hopped-up Cadillacs aimed at competing against the German performance brands. However, the brand has lost its way a bit in the last few years, and Cadillac's most recent V-Series announcement, the CT4-V and CT5-V do little to squash any disappointment. Cadillac's V-Series started in 2004 with the CTS-V producing 400 horsepower. However, the brand hit its stride in 2009 with the second-generation CTS-V designed to take on the likes of BMW M and Mercedes AMG.
However, the new CT4-V and CT5-V feel like a letdown when compared to previous V cars Cadillac has produced over the years. The CT4-V, which Cadillac revealed the model for the first time this week, sports a turbocharged 2.7-liter four-cylinder producing an estimated 320 horsepower and 369 pound-feet of torque. A 10-speed automatic gearbox is the only transmission offered with power going to the rear wheels. All-wheel drive is optional. Cadillac says the CT4-V has a near 50/50 weight distribution.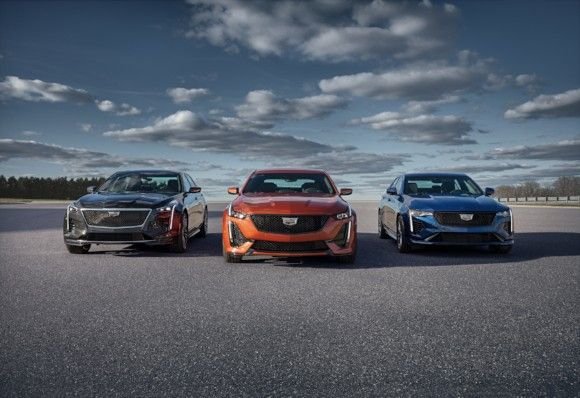 The CT5-V isn't that much more exciting. Under the hood is a 3.0-liter twin-turbocharged V6 making an estimated 355 horsepower and 400 pound-feet of torque. That's significantly less power than its 640-hp predecessor and its supercharged V8 engine. It's even less power than the original CTS-V from 15 years ago.
The CT5-V should compete with the likes of the Audi S6, Mercedes-Benz E43 AMG, BMW M550i xDrive. However, it's significantly underpowered by comparison. For example, the Audi S6 makes 450 horsepower. The standard Audi A6 produces nearly as much horsepower as the CT5-V—340 hp. The CT4-V runs into similar problems against the Audi S4, BMW 3 Series, and Mercedes-AMG C43.
Cadillac did say there are more powerful version coming; however, it seems strange the company would put the iconic V-Series nameplate on the CT4 and CT5 when it looks the V Sport branding would have been better suited to the vehicles' performance prowess. Either way, both are expected to go on sale in early 2020.