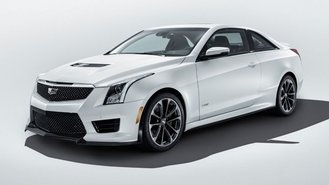 We're all fans of big horsepower. But we also love fuel-efficiency, too. And it looks like in 2015, car shoppers will get both. The recent news out of GM's headquarters rang loud and clear: the new Cadillac ATS-V will get 464 hp vs. the initial spec of 455. The bump in output is official, and so to is the horsepower war that will proceed into the foreseeable future. And that's not all, folks. Fuel economy reportedly checks in at 21 mpg in the city and a jaw-dropping 31 mpg on the highway. Impressive. Just last year, for the first time ever, BMW brought forced induction to both the 2015 M3 and all-new 2015 M4. The result was and continues to be a resounding success as horsepower, torque and fuel efficiency have all improved, all while passing strict emissions mandates.
How Do They Do It?
Among a host of numbers, formulas and engineering jargon, the answer can be attributed to a combination of turbocharging technology and lightweight material development, both of which have helped produce some of the best handling, quickest and most fun-to-drive coupes and sedans ever offered. The tech has even trickled down to trucks like the 2015 Ford F-150.
Tire-Twisting Torque
In the case of the brand-spanking new 2016 Cadillac ATS-V, that means prospective owners will not only get 464 horsepower, but a fat & juicy 444 lb-ft of torque. That's 100 lb-ft more than 2015 Porsche 911 GT3, which at $131k costs more than two ATS-V's. TWO! Add that heavy dollop of torque to the car's super-sticky Michelin Pilot Sports and you have a recipe for pure accelerative bliss, catapulting the ATS-V from 0 - 60 mph in a scant 3.8 seconds.

Fuel Economy Improvement
But thrust and twist are only part of the benefits for prospective owners. Fuel economy has also seen a bump. Aerodynamics have also played a quiet role in making today's cars more slippery than ever before. The ATS-V features a slippery .29 cD (coefficient of drag) which even beats out supercars like the $847,000+ 2015 Porsche 918.
*Estimated
Affordable Cars Get It, Too
Now, we understand that for most of us, the ATS-V's $61k sale sticker is a bit out of reach. But therein lies the benefit to the rest of the automotive cognoscenti: the tech is trickling down into more affordable models you and I can buy today like the 2015 Ford Mustang EcoBoost and 2015 Volkswagen GTI. Even the upcoming 2017 Honda Civic will feature a turbocharged 1.5L 4-cylinder engine that will make more power, torque and fuel efficiency than the model it replaces. And at the end of the day, that's good news for all of us.