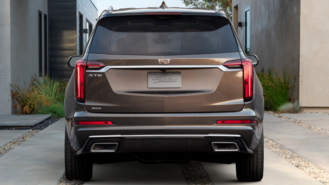 Cadillac announced this week that it's changing its naming convention in preparation for an influx of electric vehicles the brand plans to introduce in the coming years. Earlier this year, General Motors said Cadillac would lead the automaker's electrification efforts. The nomenclature change will no longer focus on engine displacement. Instead, it'll highlight the torque figure, measured in newton-meters instead of pound-feet that's exclusive to the United States.
According to Automotive News, the first vehicle to receive Cadillac's new naming is the brand's upcoming XT6 crossover. The XT6 is powered by a 3.6-liter V6 making 271 pound-feet of torque, or 367 newton-meters of torque. Also apart of Cadillac's new naming system is rounding up newton-meter figures to the nearest 50, which would take the XT6's 367 figure up to 400. The badging would read XT6 400. This would replace badges like the 2.0T that represents Cadillac's turbocharged 2.0-liter engine. Badges for turbocharged engines would get a "T" suffice after the number like 350T.
The change makes sense. If Cadillac is set to lead GM's electric revolution, then the brand will need a new way to differentiate cars with different power levels as electric vehicles aren't measured in displacement. The biggest performance factor electric powertrains offer is torque, which Cadillac is trying to highlight. Cadillac chose newton meters because of the brand's global presence.
Both Jaguar and Audi have introduced new naming structures, too. Jaguar will denote horsepower right to the badge—like P380 for a gasoline (petrol) engine making 380 horsepower—while Audi is adding a badge that indicates the model's power measured in kilowatts.
Cadillac, Jaguar, Audi, and many other luxury automakers use alphanumeric naming conventions to denote different trims, powertrains, and performance specifications. However, such naming schemes are often an automotive alphabet soup to consumers, and it's a departure from luxury brands like Lincoln that's returning to unique names for each model like the Aviator, Navigator, and Nautilus.